For lunch or dinner, as a main course or for sharing... everyone loves fried eggs with french fries, and adding the 'chorizo' is the icing on the cake. So simple, so good!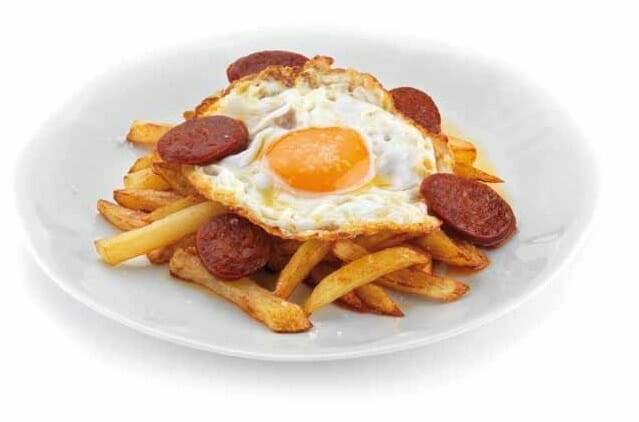 ingredients for 2 people
4 eggs
150gr chorizo
5 medium potatoes
Olive oil
Salt & pepper
PREPARATION
1

Peel the potatoes.

2

Cut them into sticks.

3

Slice the chorizo.

4

Put plenty of oil in a frying pan and heat it.

5

Fry the potatoes until they are tender inside and golden & crispy in the outside.

6

Remove the oil exceed by placing them on a paper towel.

7

Salt and set them aside.

8

Fry the eggs in the same oil, one by one. Two eggs per portion

9

Remove the oil exceed

10

Add salt & pepper

11

Place them on top of the fried potatoes

12

Fry the chorizo slices just 30 seconds in hot oil

13

Put them over the fried eggs

14

Serve immediatly
OUR TIPS AND TRICKS
How can we know if the egg is correctly fried? The egg white must be gelled, with a golden crispy edge and the yolk must be liquid. This recipe, as shown in the picture, makes a full second course. It can also be served in a smaller portion with a side salad, that way the amount of calories will be way lower.
RECIPE INFORMATION
Group:
Second courses
Preparation time:
35 minutes minutes
Difficulty:
Easy
Calories:
High
Price:
Low
Base food:
Eggs
Author:
Juan Carlos Ferrero (tennis player). Recipe included in the book
'50 recipes to enjoy wine'