In a nice layout on the plate, this dish itself will be a perfect starter for an informal lunch or dinner. With some breadsticks aside, it matches pretty well with a glass of red Spanish wine.
Presented in a flower shape, this dish is a delicatessen that can be served as a starter or as a main course for an informal dinner.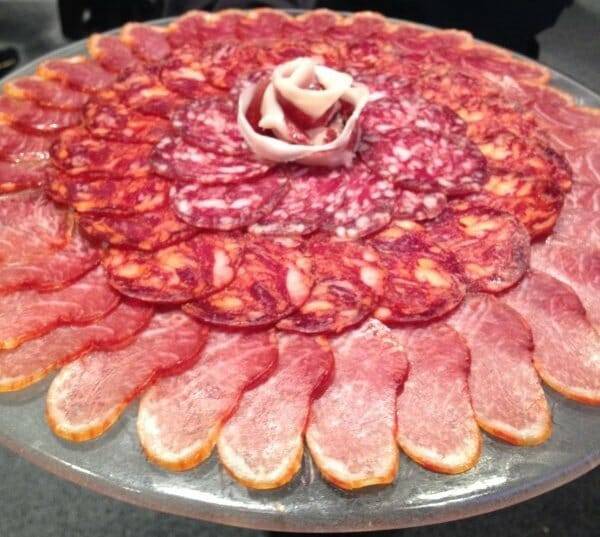 ingredients for 6 people
150 gr cured Iberian loin
150 gr Iberian 'chorizo'
150 gr Iberian 'salchichón' – non paprika chorizo
50 gr Iberian ham
Breadsticks
PREPARATION
1

Cut into quite thin slices.

2

Place them in a plate, starting from the edge with the bigger slices.

3

Make a flower shape with the ham, rolling a slice with the with fat upside.

4

Place it just in the middle.

5

Set aside a small saucer or basket with some breadsticks.
OUR TIPS AND TRICKS
The Iberian cold meats are the most expensive, but the best ones. The loin can be changed for some aged cheese and the price will be lower. Remember to cut everything quite thin!
RECIPE INFORMATION
Group:
First courses
Difficulty:
Easy
Calories:
High
Price:
High
Base food:
Meat
Author:
Con Mucha Gula