The sangria is a typical spanish wine drink lightened with soda or juice, seasoned with fruit, especially citrus, and spices. Some sangrias can also be made out of liquor.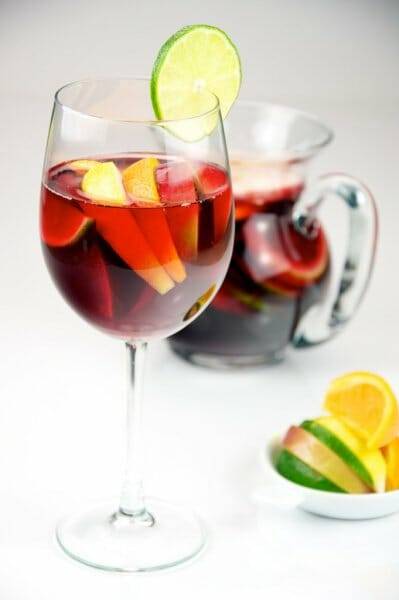 ingredients for 4 people
1 liter red wine
1/4 liter soda or fizzy lemonade
1 pinch cinnamon
75 gr sugar
200 gr chopped and unpeeled fruit: orange, lemon, peach...
1 small glass of cognac or vermouth (optional)
PREPARATION
1

Mix all the ingredients in a container or pitcher.

2

Put it in the fridge.

3

Chill it.

4

Add some ice cubes just at the serving time.

5

Decorate with lemon and orange slices.
OUR TIPS AND TRICKS
Use a good wine to make a good sangria. The better quality the wine has, the better sangria you will get. The fruit soaked in wine can be eaten, it's a deli itself!
RECIPE INFORMATION
Group:
Drinks
Preparation time:
5 minutes minutes
Difficulty:
Easy
Calories:
High
Price:
Low
Author:
Con Mucha Gula