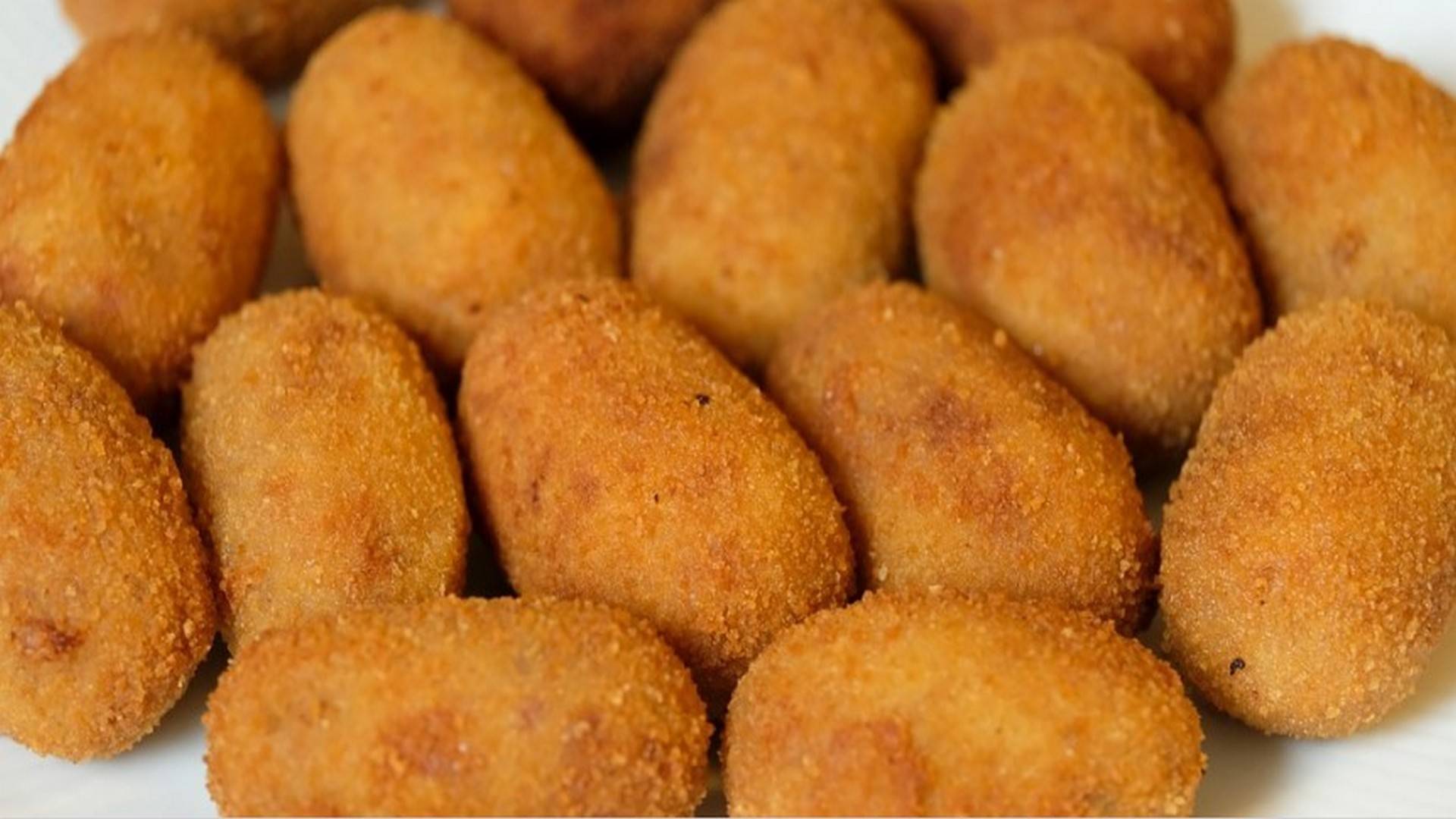 Serrano ham croquetas
The 'croquetas' are small egg-shaped pieces made out of milk-flower cooked dough, coated with breadcrumbs and whisked eggs.
It's one of the most popular and humble home-made dishes for lunch-dinner in Spain. Every Spanish home has its own version, inherited from their grandmas. In the very beginning, they were made to smartly reuse the small leftovers in the fridge, but nowadays they have become a gourmet dish themselves. They are a delicious 'tapa', appetizer, starter or dish with a side salad. Kids love them and they are ideal for sharing. There's barey any restaurant or 'tapas' bar all over Spain which doesn't include them in their menu. When it comes on market researches, it's the dish that is used to establish the average price of the restaurant. As we said before, they can be made out anything you can find in your fridge. For instance, a small piece of roast chicken breast, fish or beef... but if there's nothing left, can also be made just with onion and in this case, the dough will need more salt added. In the following recipe, we are going to show you how to make the real serrano ham croquetas:  
2 ltr whole milk
250 gr tiny minced serrano ham
1 big onion or 2 medium size
A pinch of ground nutmeg
1 spoonful olive oil
2 spoonful wheat flour

For frying:

1 cup breadcrumbs
2 eggs
Olive oil
Así lo hacemos:
Heat medium a large non-stick frying pan. Add a spoonful of oil.
Stir-fry the onion diced tiny.
Add the ham. Fry it lightly and set aside.
In the same pan, low heat, fry the flour. When it gets a nice golden color, pour quite slowly the milk and stir.
Add the nutmeg. Keep stirring with a wooden spoon, this process will take almost half an hour... Be patient!
When the dough is thick enough to not stick to the pan anymore, then add the fried onion & ham and stir.
Place all the dough in shallow bowl or baking pan until it cools completely. It makes way easier handling the dough for molding.
Use a soup spoon to get the right amount of dough for each 'croqueta'.
Make egg-shaped balls or rolls.
Bread them first in beaten eggs and then in breadcrumbs.
When all 'croquetas' are already coated, fry them deeply in hot oil until they get a light brown color.
They must be creamy and moist inside and crusty outside.
Place them in a dish, with a paper towel to absorb the exceed of oil.
Serve them hot or warm.