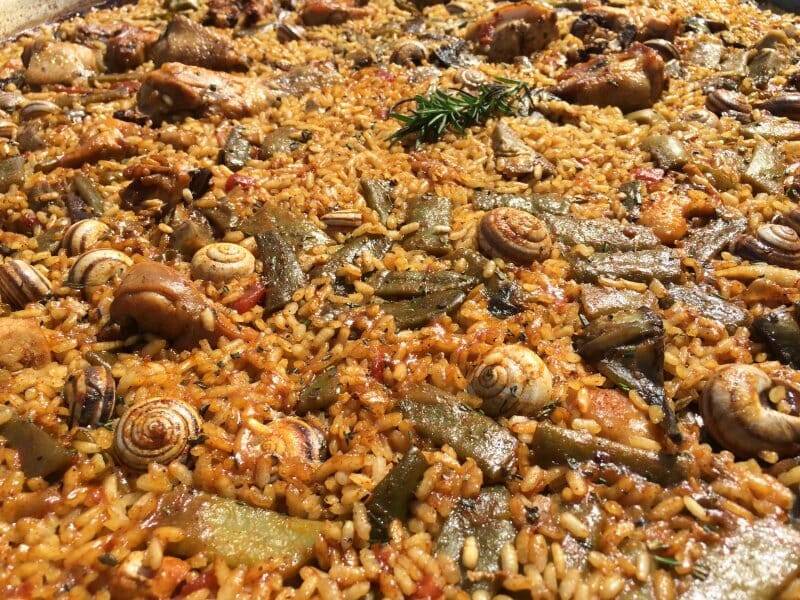 Valencian Paella, the authentic traditional home-made Spanish dish
Cooking right a Valencian Paella is actually an art that could be at the end of your fingertips as long as you follow some easy steps and have all the required ingredients.
Don't get confused between the Valencian Paella and other rice dishes. The ones from Alicante stand out for their 'sauté' and the variety of ingredients that are made of. The Valencian Paella is a survival dish that comes from the inland, that's why its basic ingredients are rabbit and chicken, and also the different vegetables from  the Valencian vegetable garden. The same happens with the different kinds of rice: the ones from Albufera (inland rice plantation area located near Valencia) are made of duck, whereas the ones from the coast are of  fish and seafood. The rice dish is made of whatever people may have in their pantry. It's the cooking heat what makes the rice be cooked nice and properly on all sides round, so that's the real key to making a successful dish.
400 g. rabbit (cut into small pieces)
400 g. chicken (cut into small pieces)
250 g. 'ferradura' (green beans)
150 g. 'tabella' (white beans)
150 g. 'garrofón' (big white beans, traditionally used in Valencia for paella)
300 g. rice
Ripe tomato
A bunch of snails
1/2 cup of olive oil
1 teaspoon of sweet paprika
3-4 saffron stigmas
Small sprig of rosemary
Salt
600 cl. water or chicken/vegetable stock
Así lo hacemos:
Use a paella pan - flat shallow round pan
Heat medium
Add the oil
When hot, fry gently the rabbit & chicken, previously cut and salted
Meanwhile, put the snails in cold salty water to clean up them
Change the water 2 or 3 times
Brown the meat
Add the beans
Still frying for 8-10 more minutes
Add the tomato (grated)
Stir until it loses all the water
Add the rice evenly, saffron, paprika and water/stock
Once it starts to boil, add more salt if needed
Add the snails (strained)
Simmer between 15-20 minutes, until the rice gets dry
Remove the paella pan from heating
Add a small sprig of rosemary
Cover the paella pan with a clean cotton-made tea towel
Let it settle 1-2 more minutes